Release of GPS Navigator KGP-915
KGP-915 is successor of KGP-913MkII and KGP-913MkIID.

With advance functionality, high accuracy, compact design, its better than ever before with color 4.3-inch LCD display and direct input numeric keypad, making this unit very easy to operate to stay safe while navigating.

Standard two data ports are available.

New GPS Navigator KGP-915 provides high accuracy and large memory for safe navigation.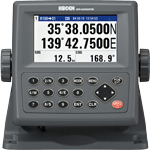 KGP-915
Brite 4.3- inch Color LCD Display
Easy numeric keypad operation
Extended memory capacity
Two data ports
USB memory support for quick data backup
Various screen modes