New high performance Radars are launched
Koden has released new high performance radars MDC-5200 series, MDC-5500 series, MDC-7900 series and 7000 series.
IMO approved type MDC-7900P series and 7000P series are also available.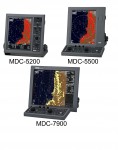 Clear image with high speed sampling in short range.
Auto gain and auto STC with simple operation.
TT (ARPA) function and AIS interface are built into the Radars as standard.